ZAWAJ PRO provide a safe, friendly, and halal platform for single Muslims to find a potential spouse.
We help Islamic organizations support their member by offering the perfect setting and guidance for single Muslims and their families to meet and interact with others members, within Islamic boundaries. The website helps create long-lasting marriages – it is NOT a dating service.
The platform can be branded with your UNIQUE LOGO, and a specific domain name so your community will be able to access the service.

We are convinced that our platform can help more effectively our brothers and sisters who want to meet in a lawful context. ZAWAJ PRO was designed for this purpose.

There is NO COST to the Islamic organization. The platform is paid only by the users, and revenues are shared with ZAWAJ PRO.
These Islamic Centers use our services
Benefits
If you are an Islamic organization (mosque, Islamic center, association, etc.) that offer to the Muslim community a Matchmaking Service or wishing to offer it, know that ZAWAJ PRO was designed to help you accomplish this noble task.



The benefits are multiple :

FREE for Islamic organizations
Automation of enrollment management
Simple validation process by your team
Automated change management
Real-time tracking of meeting requests
Integrated payment platform
Financial Fallout for Central Partner
LAWFUL
All stages of the process leading to an eventual meeting scrupulously respect the precepts of Islam.
CONFIDENTIAL
The candidates have no way to talk to each other because they do not have access to information that can be used for this purpose. We carefully protect this information and will never disclose it.
SAFE
All candidates undergo a simple validation process by your organization before receiving approval. You should accept only serious people who want to meet in a legal framework.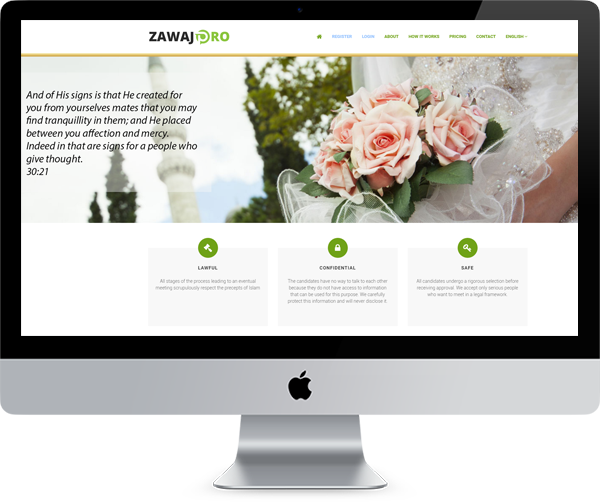 Demo
Please contact us, so we can organize a web remote demo presentation of our platform.
We can present you all the benefits of managing easily your matchmaking service.
Please contact us at :
admin@zawajpro.com


ZAWAJ PRO
A unique platform for Islamic organizations to manage their matchmaking services.
For more informations, please contact us at :
admin@zawajpro.com